Avon, NC, Was Once Kinnekett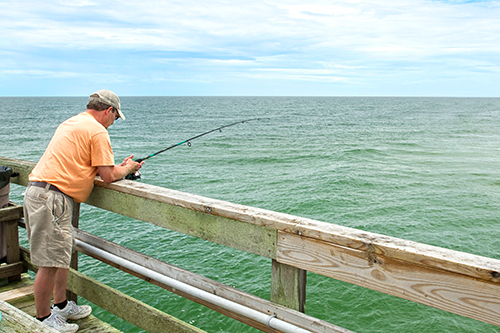 South of the Tri-Villages, past a sizeable stretch of undeveloped Cape Hatteras National Seashore, Avon, NC, is considered the largest and busiest of the Hatteras Island towns (but remember that's relative to Hatteras Island, not where you come from). Avon Outer Banks has the only two stoplights on the island (and, still, it's the busiest…isn't that just perfect!).
Avon was historically known as Kinnakeet, a name that is still often used to refer to the older part of town. Kinnakeet got its first post office in 1873, but 10 years later the postal service renamed it Avon, NC. In 1850 there were 318 residents of Kinnakeet, and around the turn of the century there were about 500, all of them living on the west side of the island. The area of Hatteras Island on which Avon Outer Banks sits was known until modern times as Kinnakeet Banks. Two life-saving stations anchored Kinnakeet Banks — Big Kinnakeet Station south of the village (about where Hatteras Realty is now) and Little Kinnakeet Station north of the village. The early Kinnakeeters, in the early 1800s, cut down large quantities of live oak and cedar trees and used them for building boats or exported them for use in building ships elsewhere. They basically stripped the island clean of trees. Kinnakeet was known for building small schooners, and in the years following the Civil War it was known for its locally built oystering fleet.
Present-day Avon, NC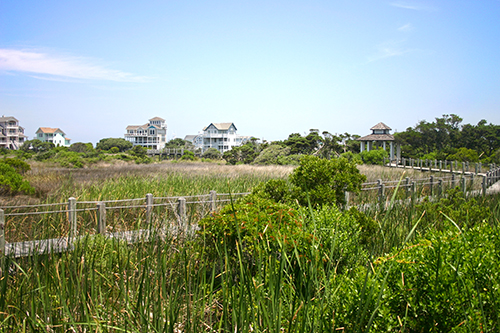 Avon, NC, today is the hub for Hatteras Island. Home to the only chain grocery store as well as a popular locally owned grocery with specialty foods, Avon shopping is the big boss: surf shops, gift shops, galleries, coffee shops, spice shops, souvenirs, bike shops, fish shops, hammocks, sail shops, hardware shops, a pharmacy (!)…see what we mean? The only match energetically to shopping in Avon Outer Banks is the recreation. To start, there's a movie theater (no more driving to Manteo or Kill Devil Hills!). But the big kahuna of Avon recreation is surfing, whether that's with a sail, a kite, a paddle, hanging ten or flat on your belly. South of Avon, NC, is one of the island's most popular kiteboarding and windsurfing spots; it's known as The Haulover or Canadian Hole. Fishing draws hoards too, whether they go for the big one from Avon Pier, offshore, in the sound or beach casting. And a close third place is eating; Avon restaurants are plentiful and varied – fresh seafood, bakeries, Mexican, Italian, burgers, Chinese, delis, pizza.
Because Avon Outer Banks is such a popular destination, Avon vacation rental companies are abundant and represent houses that range from beach boxes to oceanfront mansions. Take your pick, pony up then relax for a fabulous experience at the busiest un-busy spot on Hatteras Island.