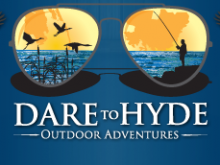 Welcome to Dare to Hyde Adventures! We pride ourselves in providing one-stop-shopping for the most diverse adventures on the planet.
Build your own trip from a unique menu of options, complete with everything from seeing the world's largest black bears to experiencing hands-on farming in a setting not available to the general public. All activities are enjoyed in close proximity to the famous beaches of the Outer Banks of North Carolina and led by knowledgeable natives of Ocracoke and the greater Dare and Hyde Counties.
Dare to Hyde adventures are second to none. You will enjoy a professional guide who will be there at your beck and call; great food, and comfortable lodging accommodations. With the beaches, bountiful wildlife, historic sites, hunting, fishing, and many refuges, this region hosts a wide variety of activities to choose from in a relatively small area. By having the latitude to build your own trip, you can dude farm one day, fish the next, view wildlife in the morning, and lay on a secluded beach that afternoon. Depending on the itinerary you choose, you can combine activities to do as few or as many as you like in a single day.
Contact us today to create your adventure of a lifetime!