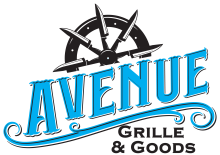 Big News For This Year
Avenue Waterfront Grille is now Avenue Grille & Goods and Lighthouse Studio
Expect a total facelift and new concept the next time you walk into Avenue. The restaurant will still be serving up all the favorites you've come to love, but will now be lunch only. Alongside the restaurant is a brand new shop featuring goods that have been hand-picked with our eco-conscious mission in mind. We've also launched a new in-house studio, Lighthouse Studio, which will be a space for yoga, fitness, meditation and more.
Seafood Restaurant in Manteo, NC
If you're looking for a seafood restaurant with a casual, family-friendly vibe and amazing water views from every seat, you've found it in Avenue Grille. Located on the waterfront in historic downtown Manteo, NC, Avenue Grille is one of the few Outer Banks restaurants where you can arrive by boat and walk right up the stairs for a fresh meal and a cocktail. Our diverse menu features 100% local seafood, all-natural proteins and fresh produce. Better yet, we make everything from scratch! From expertly prepared fresh fish entrees to artisan flatbread pizzas and beyond, everyone in your party is guaranteed to find something they love.
Ethical & Fair-Trade Shopping
We're committed to sourcing our retail shop with products that are either eco-friendly, made from a small business or from a business that is committed to ethical, fair-trade standards. Our eco-friendly items are made from material that is sustainable/biodegradable or is at least an alternative to a harsher fabric. We buy from companies that have made public statements on their efforts to employ people near and far with fair wages and create sustainable and equitable trade relationships. Many of our goods are made by small businesses, globally and locally, so you can rest assured your purchase supports the families behind these businesses directly. Resist corporate! Shop small.
Yoga, Fitness & Meditation Studio
Newly built in 2022, Lighthouse Studio was born of a dream to create a space for our community to gather in peace, love and wellness. It's a place for you to practice yoga and other fitness modalities in a serene, accepting atmosphere surrounded by picturesque views of the Manteo harbor. Join us for classes or schedule a private session. We offer a variety programs for people of all abilities and experience levels.