Historic Manteo, NC -- County Seat, Arts Central, Village Atmosphere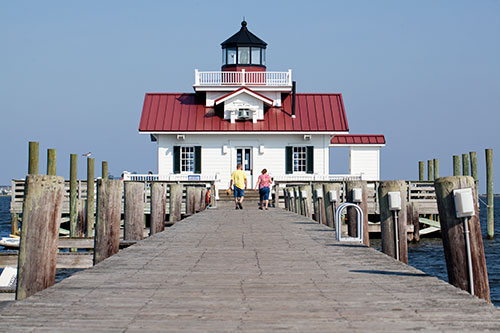 Manteo, NC, incorporated in 1899 and declared the Dare County seat in 1870, is a small island town complete with a picturesque waterfront, a safe harbor and welcoming docks and a charming downtown historic area. Located on the northern half of the 8-mile-long and 2-mile-wide Roanoke Island, Manteo Outer Banks is known as a center for arts, a stronghold of Outer Banks attractions and a tight-knit community where families that have lived here for generations share space with the newly arrived and visitors. On the other end of the island is Wanchese, a village oriented to providing fresh seafood to dinner plates far and wide – and a real education to visitors as to what a working harbor looks like.
The downtown waterfront is an attraction in itself for Manteo Outer Banks, with a waterfront boardwalk and park and boats sitting in the harbor of Shallowbag Bay, creating picturesque water views that linger in the memories of visitors. Downtown Manteo shopping takes you on a leisu
rely stroll around town where art galleries, locally owned shops and Manteo restaurants and pubs help you pass some pleasant hours. Manteo, NC, even has its own lighthouse, Roanoke Marshes Light, as well as Roanoke Island Festival Park, one of the most popular Outer Banks and Manteo attractions. Performances enliven the outdoor amphitheater at Festival Park, such as the annual Bluegrass Festival in September and the Memorial Day Weekend Beach Music Festival. You can spread a blanket and take it all in. 
The Manteo, NC, historic district is full of beautiful old restored homes and bed and breakfast inns that make for great sightseeing or overnight stays. It is perfect for exploring on foot or by bicycle. Park the car and walk around; the town is quite pedestrian friendly. Since Manteo, NC, is on an island, one might assume – correctly – that Manteo recreation centers around water. Kayaking, sailing, standup paddleboarding and motor boating are all popular. Dolphin and sailing tours are plentiful. To view Manteo Outer Banks from the water during a quiet, warm summer sunset is to see an exquisite blend of human hand and natural art.
Roanoke Island Is Home to Popular Attractions

On the north end of Roanoke Island is a concentration of five more of the most popular Outer Banks attractions. Fort Raleigh National Historic Site and The Lost Colony's Waterside Theatre both serve to bring to life more than 400 years of our history, starting with England's first attempt to colonize the New World right at this site. The Lost Colony is the oldest-running outdoor symphonic drama in the country and tells this story. Also on site is a commemoration of the Roanoke Island Freedman's Colony where thousands of freed slaves created a thriving community during and after the Civil War. Next door, the Elizabethan Gardens are a wonderland all year, with constantly changing blooms and festivals that bring sparkling lights and seasonal fun to locals and guests. As you might expect, the Gardens are also a very popular venue for Roanoke Island weddings.Manteo, NC, is also home to the North Carolina Aquarium where all ages are wowed by the shark exhibits, touch tanks, varied aquariums, otter habitat and more. The gorgeous soundfront location provides cool breezes on the hottest summer days and a perfect location for picnics.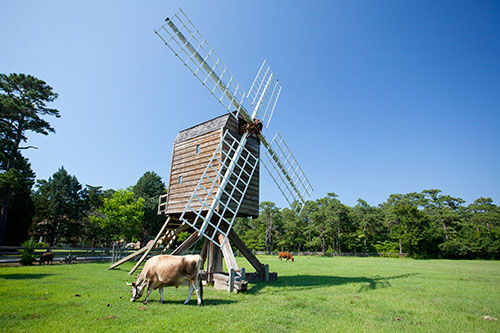 Manteo Outer Banks' newest attraction is the Island Farm, a living history site that lets you experience life as it was in the mid-1800s on Roanoke Island. The grounds contain the old homestead, chicken coop, slave cabin, cookhouse, smokehouse, dairy, barns, woodshed, outhouse and a blacksmith shop. You can visit with the sheep, cow, Banker ponies and ox as they lazily graze the pastures. Kids adore this place and learn while they're having fun.
The main corridor of Manteo, NC, is U.S. Highway 64. This road is lined with shops, galleries, restaurants, service businesses and places to stay. A bicycle/multi-use path runs parallel to U.S. Highway 64 for the length of this picturesque island. If you have a bicycle handy, we highly recommend using this path to explore Roanoke Island. The path ends at a beautiful soundfront park.