Hatteras History
On the southern end of Hatteras Island, Hatteras, NC, or as the locals call it, Hatteras Village, is known for its ties to Outer Banks offshore charter fishing. The village borders Hatteras Inlet, giving boats that dock here an easy and quick route to the Gulf Stream and providing the area with a rich history centered around that inlet and its place in maritime traffic.
Hatteras Outer Banks was settled but didn't really begin to grow and prosper until the opening of Hatteras Inlet in 1846. The new, deep inlet lured maritime traffic away from Ocracoke Inlet, and the village naturally grew to accommodate the ships that were passing through Hatteras Inlet from ocean to sound or vice versa. Hatteras, NC's post office was established in 1858. Early in the Civil War, the Union got control of two Confederate forts near the inlet, and the village was pretty much taken over by Federal soldiers for the duration of the war. After the war, maritime traffic picked back up through the inlet, and Hatteras Outer Banks prospered.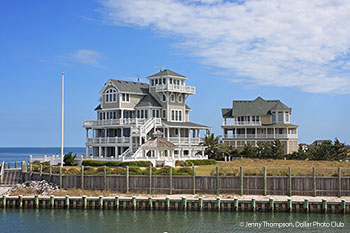 For a while it was one of the largest ports in the state, the main point of entry for cargo ships headed to mainland communities like Elizabeth City or New Bern. Hatteras, NC, suffered a bit of a decline as the state built major ports at Wilmington and Morehead City, but the residents got by on government jobs, commercial fishing and duck hunting. When the sport of Hatteras offshore charter fishing took off here beginning in the late 1930s, the village started its rise in popularity as a tourist destination.
To house all those visiting duck hunters and anglers, the first Hatteras Outer Banks hotel was built in 1928, and today accommodations range from luxurious condos to campgrounds to harborside hotels. Hatteras vacation rental houses offer some of the most decked out homes on all of Hatteras Island. Hatteras restaurants naturally have kept pace with the rise in visitors, and today the choices range from a stand-up taco bar to several very good, long-established seafood restaurants to a couple of popular delis to coffee and ice cream shops.
Hatteras, NC -- The Fishing Capital

As we said, the focus of Hatteras recreation is and always has been fishing – offshore, inshore, beach, wherever you can cast a line. Many offshore anglers drive from points north to Hatteras, NC, marinas since it's a significantly shorter trip to the Gulf Stream from here. But if you're not the fish-catching sort, outfitters can get you into a kayak, onto a stand-up paddleboard, high up on a parasail, taking a guided history tour around the village or enjoying a sunset or kid's pirate cruise. 
One of the newest Hatteras attractions, the Graveyard of the Atlantic Museum, is located here. The 45-minute ferry ride to Ocracoke Island leaves from Hatteras Village.