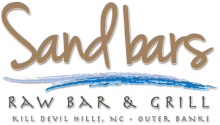 Outer Banks Seafood Restaurant
The Outer Banks is known for its abundance of fresh, well-prepared seafood. You'll find it on nearly every menu around, but few Outer Banks restaurants have made it a specialty the way Sandbars has. Located on the south end of the Dare Centre in Kill Devil Hills, Sandbars Raw Bar & Grill not only offers locally caught delicacies, but premier regional ones too. For example, at Sandbars, you get to decide where your oysters come from. Whether Striker Bay, Bodie Island, Rochambeau or the James River, Sandbars gives you options you simply don't get elsewhere.
Happy Hour Outer Banks
If the sheer variety isn't enticing enough, consider Sandbars' daily Outer Banks happy hour. Offered from 3 to 6 p.m., it runs as late as any on the Outer Banks, meaning you can enjoy an affordable dining experience without royally disrupting your schedule. Try the raw bar — during happy hour, the entire thing is half off. Not a fan of the uncooked? Tacos, sliders and wings are also available at a fraction of their usual prices. Complement your meal with a fine wine or craft beer, soak in the intimate atmosphere and be satisfied. For now, Sandbars Raw Bar & Grill in Kill Devil Hills is one of the Outer Banks' best kept secrets.