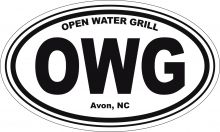 From the beginning, our innovative concept was to keep it simple and delicious. When you first step into The Open Water Grill, you realize that every last detail was put together by one of the owners who is always on site to serve great food and a good time. The Open Water Grill philosophy is simple: Whether you live locally on the Outer Banks or are from out of town, every day in Avon, NC, is a vacation. More importantly, it's your vacation. You shouldn't have to sacrifice quality to achieve relaxation. The Open Water Grill gives you the best of both worlds.
We cook almost entirely with fresh ingredients, serving the freshest Outer Banks food on real dishes placed on linen-covered tables, all in an atmosphere that welcomes flip flops and board shorts. We're a one-of-a-kind Outer Banks waterfront dining experience. All that's missing is YOU!
Our colorful décor complements our long list of colorful cocktails. In the spirit of keeping it simple, we chose to create a drink menu heavy on the real fruit and premium spirits, all at a reasonable price. The OWG Bar is stocked with front-facing spirits and ice cold beer. The Open Water Grill wine list is based on menu item compatibility rather than label appeal, and our beer selection is designed to give you plenty of variety as you sit on our deck and relax while watching one of the best sunsets on the planet. For our guests who have to drive home, we offer iced tea that is brewed fresh throughout the day and coffee with names you recognize like StarBucks and Tim Horton's.