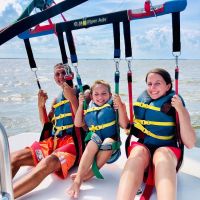 Vacation in the Time of Covid-19: 
Parasailing & Water Sports in general on the Outer Banks During a Pandemic & What has Changed at Lighthouse Parasail
Alright, guys. The title of this post is of course a bit… erm… bleak, to say the least. And I know that. But! This is something we have wanted to address since we officially re-opened on the Outer Banks on June 10th—a late start compared to our usual Memorial Day Weekend opening.