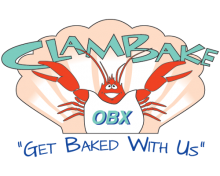 ClamBake OBX Outer Banks Catering
We have Dinner Entrees for your selection with ClamBake OBX. We cook for groups from 6 to 600 people, children and adults. We supply you with USDA choice meats that have been carefully selected especially for you. Our seafood is fresh and all locally caught. Beef, pork and chicken are USDA inspected. We set all meals up buffet style and you serve your own drinks. If you help with the clean up it will reduce the price. Prices vary with the amount of people and the location. We specialize in traditional Outer Banks meals. Look at the site and register to quote a price or you can also call or e-mail us at anytime. This is a great service to add to your vacation on the Outer Banks of North Carolina. We service the following areas: Corolla, Corova, Sanderling, Duck, Southern Shores, Kitty Hawk, Kill Devil Hills, Nags Head, Hatteras Island, Buxton, Frisco, Avon, Waves, Rodanthe and Salvo. 
Whether you're with 8 friends on vacation with family or a wedding party with 200 guests, why don't you treat yourself to a homemade meal made by someone who isn't you for a change? We can arrange to send one of our highly skilled chefs over to make any meal you want. OBCB will have you a masterfully made meal that you and your guests will love!
The best part: You'll get a great meal without the hassle of a busy restaurant with lines that literally can last hours during the tourist season. You can skip all that and get to eat it in the comfort and privacy of your own vacation home! We'll bring everything we need and as many people as we need to serve you and your friends properly. We'll cook, serve and clean up the dishes. What more could you ask for in a meal at home? Hey, you're on vacation and don't want to cook; we understand. We don't blame you! It's the Outer Banks, go enjoy yourself let go and leave the cooking to us!
---
Outer Banks Online Grocery Delivery
Outer Banks Grocery Stockers will provide all your grocery needs while you are on vacation! We shop for your groceries the day of your check in with your Rental Company and we guarantee delivery by 6 pm. We deal only with the finest and freshest. We purchase our seafood from local fishermen and supply only Grade A USDA Beef, Poultry and Pork. Our expert shoppers will spare neither effort nor time to deliver the best. We also have beach rental equipment and linen service for you vacation needs. Our inventory is extensive and special orders can be made for items not in our inventory. We supply all paper and cleaning products, condiments, drinks, snacks, cooking staples, etc. Learn more >